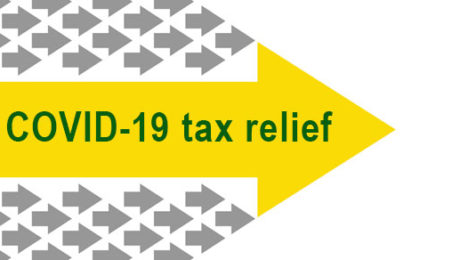 Businesses across the country are being affected by the coronavirus (COVID-19). Fortunately, Congress recently passed a law that provides at least some relief. In a separate development, the IRS has issued guidance allowing taxpayers to defer any amount of federal income tax payments due on April 15, 2020, until July 15, 2020, without penalties or interest.
New law
On March 18, the Senate passed the House's coronavirus bill, the Families First Coronavirus Response Act. President Trump signed the bill that day. It includes:
Paid leave benefits to employees,
Tax credits for employers and self-employed taxpayers, and
FICA tax relief for employers.
Tax filing and payment extension
In Notice 2020-18, the IRS provides relief for taxpayers with a federal income tax payment due April 15, 2020. The due date for making federal income tax payments usually due April 15, 2020 is postponed to July 15, 2020.
Important: The IRS announced that the 2019 income tax filing deadline will be moved to July 15, 2020 from April 15, 2020, because of COVID-19.
Treasury Department Secretary Steven Mnuchin announced on Twitter, "we are moving Tax Day from April 15 to July 15. All taxpayers and businesses will have this additional time to file and make payments without interest or penalties."
Previously, the U.S. Treasury Department and the IRS had announced that taxpayers could defer making income tax payments for 2019 and estimated income tax payments for 2020 due April 15 (up to certain amounts) until July 15, 2020. Later, the federal government stated that you also don't have to file a return by April 15.
Of course, if you're due a tax refund, you probably want to file as soon as possible so you can receive the refund money. And you can still get an automatic filing extension, to October 15, by filing IRS Form 4868. Contact us with any questions you have about filing your return.
Any amount can be deferred
In Notice 2020-18, the IRS stated: "There is no limitation on the amount of the payment that may be postponed." (Previously, the IRS had announced dollar limits on the tax deferrals but then made a new announcement on March 21 that taxpayers can postpone payments "regardless of the amount owed.")
In Notice 2020-18, the due date is postponed only for federal income tax payments for 2019 normally due on April 15, 2020 and federal estimated income tax payments (including estimated payments on self-employment income) due on April 15, 2020 for the 2020 tax year.
As of this writing, the IRS hasn't provided a payment extension for the payment or deposit of other types of federal tax (including payroll taxes and excise taxes).
Contact us
This only outlines the basics of the federal tax relief available at the time this was written. New details are coming out daily. Be aware that many states have also announced tax relief related to COVID-19. And Congress is working on more legislation that will provide additional relief, including sending checks to people under a certain income threshold and providing relief to various industries and small businesses.
We'll keep you updated. In the meantime, contact us with any questions you have about your situation.
© 2020 Covenant CPA
Wednesday, 12 September 2018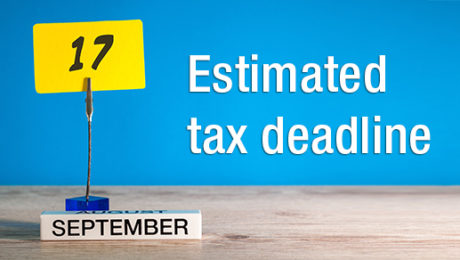 To avoid interest and penalties, you must make sufficient federal income tax payments long before your April filing deadline through withholding, estimated tax payments, or a combination of the two. The third 2018 estimated tax payment deadline for individuals is September 17.
If you don't have an employer withholding tax from your pay, you likely need to make estimated tax payments. But even if you do have withholding, you might need to pay estimated tax. It can be necessary if you have more than a nominal amount of income from sources such as self-employment, interest, dividends, alimony, rent, prizes, awards or the sales of assets.
A two-prong test
Generally, you must pay estimated tax for 2018 if both of these statements apply:
You expect to owe at least $1,000 in tax after subtracting tax withholding and credits, and
You expect withholding and credits to be less than the smaller of 90% of your tax for 2018 or 100% of the tax on your 2017 return — 110% if your 2017 adjusted gross income was more than $150,000 ($75,000 for married couples filing separately).
If you're a sole proprietor, partner or S corporation shareholder, you generally have to make estimated tax payments if you expect to owe $1,000 or more in tax when you file your return.
Quarterly payments
Estimated tax payments are spaced through the year into four periods or due dates. Generally, the due dates are April 15, June 15 and September 15 of the tax year and January 15 of the next year, unless the date falls on a weekend or holiday (hence the September 17 deadline this year).
Estimated tax is calculated by factoring in expected gross income, taxable income, deductions and credits for the year. The easiest way to pay estimated tax is electronically through the Electronic Federal Tax Payment System. You can also pay estimated tax by check or money order using the Estimated Tax Payment Voucher or by credit or debit card.
Confirming withholding
If you determine you don't need to make estimated tax payments for 2018, it's a good idea to confirm that the appropriate amount is being withheld from your paycheck. To reflect changes under the Tax Cuts and Jobs Act (TCJA), the IRS updated the tables that indicate how much employers should withhold from their employees' pay, generally reducing the amount withheld.
The new tables might cause some taxpayers to not have enough withheld to pay their ultimate tax liabilities under the TCJA. The IRS has updated its withholding calculator (available at irs.gov) to assist taxpayers in reviewing their situations.
Avoiding penalties
Keep in mind that, if you underpaid estimated taxes in earlier quarters, you generally can't avoid penalties by making larger estimated payments in later quarters. But if you also have withholding, you may be able to avoid penalties by having the estimated tax shortfall withheld.
To learn more about estimated tax and withholding — and for help determining how much tax you should be paying during the year — contact us at 205-345-9898.
© 2018 Covenant Consulting CPA