Wednesday, 06 February 2019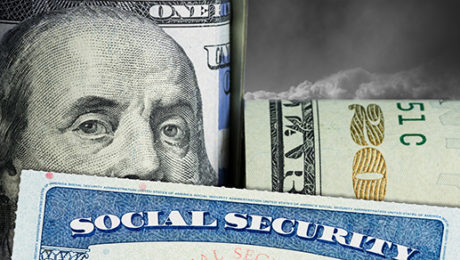 The IRS opened the 2018 income tax return filing season on January 28. Even if you typically don't file until much closer to the April 15 deadline, this year consider filing as soon as you can. Why? You can potentially protect yourself from tax identity theft — and reap other benefits, too.
What is tax identity theft?
In a tax identity theft scheme, a thief uses your personal information to file a fraudulent tax return early in the filing season and claim a bogus refund.
You discover the fraud when you file your return and are informed by the IRS that the return has been rejected because one with your Social Security number has already been filed for the same tax year. While you should ultimately be able to prove that your return is the legitimate one, tax identity theft can cause major headaches to straighten out and significantly delay your refund.
Filing early may be your best defense: If you file first, it will be the tax return filed by a would-be thief that will be rejected — not yours.
What if you haven't received your W-2s and 1099s?
To file your tax return, you must have received all of your W-2s and 1099s. January 31 was the deadline for employers to issue 2018 Form W-2 to employees and, generally, for businesses to issue Form 1099 to recipients of any 2018 interest, dividend or reportable miscellaneous income payments.
If you haven't received a W-2 or 1099, first contact the entity that should have issued it. If that doesn't work, you can contact the IRS for help.
What are other benefits of filing early?
Besides protecting yourself from tax identity theft, the most obvious benefit of filing early is that, if you're getting a refund, you'll get that refund sooner. The IRS expects more than nine out of ten refunds to be issued within 21 days.
But even if you owe tax, filing early can be beneficial. You still won't need to pay your tax bill until April 15, but you'll know sooner how much you owe and can plan accordingly. Keep in mind that some taxpayers who typically have gotten refunds in the past could find themselves owing tax when they file their 2018 return due to tax law changes under the Tax Cuts and Jobs Act (TCJA) and reduced withholding from 2018 paychecks.
Need help?
If you have questions about tax identity theft or would like help filing your 2018 return early, please contact us. While the new Form 1040 essentially does fit on a postcard, many taxpayers will also have to complete multiple schedules along with the form. And the TCJA has changed many tax breaks. We can help you ensure you file an accurate return that takes advantage of all of the breaks available to you. Call us at 205-345-9898 for more.
© 2019 Covenant CPA
Monday, 17 September 2018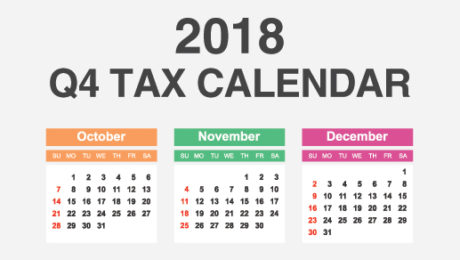 Here are some of the key tax-related deadlines affecting businesses and other employers during the fourth quarter of 2018. Keep in mind that this list isn't all-inclusive, so there may be additional deadlines that apply to you. Contact us to ensure you're meeting all applicable deadlines and to learn more about the filing requirements.
October 15
If a calendar-year C corporation that filed an automatic six-month extension:

File a 2017 income tax return (Form 1120) and pay any tax, interest and penalties due.
Make contributions for 2017 to certain employer-sponsored retirement plans.
October 31
Report income tax withholding and FICA taxes for third quarter 2018 (Form 941) and pay any tax due. (See exception below under "November 13.")
November 13
Report income tax withholding and FICA taxes for third quarter 2018 (Form 941), if you deposited on time and in full all of the associated taxes due.
December 17
If a calendar-year C corporation, pay the fourth installment of 2018 estimated income taxes.
Contact us at 205-345-9898 to learn more.
© 2018 Covenant CPA
Wednesday, 12 September 2018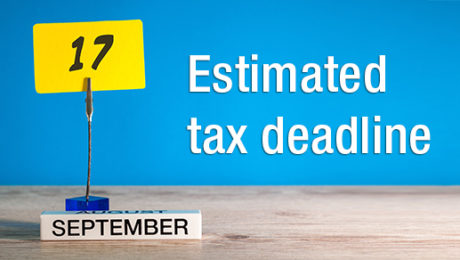 To avoid interest and penalties, you must make sufficient federal income tax payments long before your April filing deadline through withholding, estimated tax payments, or a combination of the two. The third 2018 estimated tax payment deadline for individuals is September 17.
If you don't have an employer withholding tax from your pay, you likely need to make estimated tax payments. But even if you do have withholding, you might need to pay estimated tax. It can be necessary if you have more than a nominal amount of income from sources such as self-employment, interest, dividends, alimony, rent, prizes, awards or the sales of assets.
A two-prong test
Generally, you must pay estimated tax for 2018 if both of these statements apply:
You expect to owe at least $1,000 in tax after subtracting tax withholding and credits, and
You expect withholding and credits to be less than the smaller of 90% of your tax for 2018 or 100% of the tax on your 2017 return — 110% if your 2017 adjusted gross income was more than $150,000 ($75,000 for married couples filing separately).
If you're a sole proprietor, partner or S corporation shareholder, you generally have to make estimated tax payments if you expect to owe $1,000 or more in tax when you file your return.
Quarterly payments
Estimated tax payments are spaced through the year into four periods or due dates. Generally, the due dates are April 15, June 15 and September 15 of the tax year and January 15 of the next year, unless the date falls on a weekend or holiday (hence the September 17 deadline this year).
Estimated tax is calculated by factoring in expected gross income, taxable income, deductions and credits for the year. The easiest way to pay estimated tax is electronically through the Electronic Federal Tax Payment System. You can also pay estimated tax by check or money order using the Estimated Tax Payment Voucher or by credit or debit card.
Confirming withholding
If you determine you don't need to make estimated tax payments for 2018, it's a good idea to confirm that the appropriate amount is being withheld from your paycheck. To reflect changes under the Tax Cuts and Jobs Act (TCJA), the IRS updated the tables that indicate how much employers should withhold from their employees' pay, generally reducing the amount withheld.
The new tables might cause some taxpayers to not have enough withheld to pay their ultimate tax liabilities under the TCJA. The IRS has updated its withholding calculator (available at irs.gov) to assist taxpayers in reviewing their situations.
Avoiding penalties
Keep in mind that, if you underpaid estimated taxes in earlier quarters, you generally can't avoid penalties by making larger estimated payments in later quarters. But if you also have withholding, you may be able to avoid penalties by having the estimated tax shortfall withheld.
To learn more about estimated tax and withholding — and for help determining how much tax you should be paying during the year — contact us at 205-345-9898.
© 2018 Covenant Consulting CPA