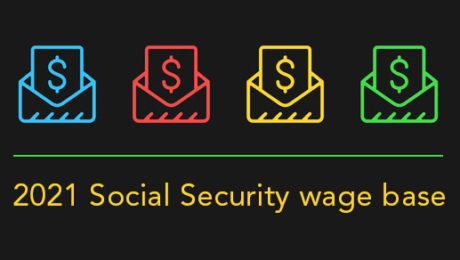 If your small business is planning for payroll next year, be aware that the "Social Security wage base" is increasing.
The Social Security Administration recently announced that the maximum earnings subject to Social Security tax will increase from $137,700 in 2020 to $142,800 in 2021.
For 2021, the FICA tax rate for both employers and employees is 7.65% (6.2% for Social Security and 1.45% for Medicare).
For 2021, the Social Security tax rate is 6.2% each for the employer and employee (12.4% total) on the first $142,800 of employee wages. The tax rate for Medicare is 1.45% each for the employee and employer (2.9% total). There's no wage base limit for Medicare tax so all covered wages are subject to Medicare tax.
In addition to withholding Medicare tax at 1.45%, an employer must withhold a 0.9% additional Medicare tax from wages paid to an employee in excess of $200,000 in a calendar year.
Employees working more than one job
You may have employees who work for your business and who also have a second job. They may ask if you can stop withholding Social Security taxes at a certain point in the year because they've already reached the Social Security wage base amount. Unfortunately, you generally can't stop the withholding, but the employees will get a credit on their tax returns for any excess withheld.
Older employees
If your business has older employees, they may have to deal with the "retirement earnings test." It remains in effect for individuals below normal retirement age (age 65 to 67 depending on the year of birth) who continue to work while collecting Social Security benefits. For affected individuals, $1 in benefits will be withheld for every $2 in earnings above $18,960 in 2021 (up from $18,240 in 2020).
For working individuals collecting benefits who reach normal retirement age in 2021, $1 in benefits will be withheld for every $3 in earnings above $46,920 (up from $48,600 in 2020), until the month that the individual reaches normal retirement age. After that month, there's no limit on earnings.
Contact us if you have questions. We can assist you with the details of payroll taxes and keep you in compliance with payroll laws and regulations.
© 2020 Covenant CPA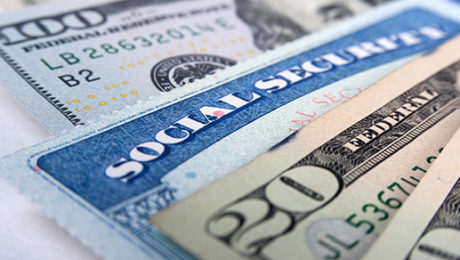 If you're getting close to retirement, you may wonder: Are my Social Security benefits going to be taxed? And if so, how much will you have to pay?
It depends on your other income. If you're taxed, between 50% and 85% of your benefits could be taxed. (This doesn't mean you pay 85% of your benefits back to the government in taxes. It merely that you'd include 85% of them in your income subject to your regular tax rates.)
Crunch the numbers
To determine how much of your benefits are taxed, first determine your other income, including certain items otherwise excluded for tax purposes (for example, tax-exempt interest). Add to that the income of your spouse, if you file joint tax returns. To this, add half of the Social Security benefits you and your spouse received during the year. The figure you come up with is your total income plus half of your benefits. Now apply the following rules:
1. If your income plus half your benefits isn't above $32,000 ($25,000 for single taxpayers), none of your benefits are taxed.
2. If your income plus half your benefits exceeds $32,000 but isn't more than $44,000, you will be taxed on one half of the excess over $32,000, or one half of the benefits, whichever is lower.
Here's an example
For example, let's say you and your spouse have $20,000 in taxable dividends, $2,400 of tax-exempt interest and combined Social Security benefits of $21,000. So, your income plus half your benefits is $32,900 ($20,000 + $2,400 +1/2 of $21,000). You must include $450 of the benefits in gross income (1/2 ($32,900 − $32,000)). (If your combined Social Security benefits were $5,000, and your income plus half your benefits were $40,000, you would include $2,500 of the benefits in income: 1/2 ($40,000 − $32,000) equals $4,000, but 1/2 the $5,000 of benefits ($2,500) is lower, and the lower figure is used.)
Important: If you aren't paying tax on your Social Security benefits now because your income is below the floor, or you're paying tax on only 50% of those benefits, an unplanned increase in your income can have a triple tax cost. You'll have to pay tax on the additional income, you'll have to pay tax on (or on more of ) your Social Security benefits (since the higher your income the more of your Social Security benefits that are taxed), and you may get pushed into a higher marginal tax bracket.
For example, this situation might arise if you receive a large distribution from an IRA during the year or you have large capital gains. Careful planning might be able to avoid this negative tax result. You might be able to spread the additional income over more than one year, or liquidate assets other than an IRA account, such as stock showing only a small gain or stock with gain that can be offset by a capital loss on other shares.
If you know your Social Security benefits will be taxed, you can voluntarily arrange to have the tax withheld from the payments by filing a Form W-4V. Otherwise, you may have to make estimated tax payments. Contact us for assistance or more information.
© 2020 Covenant CPA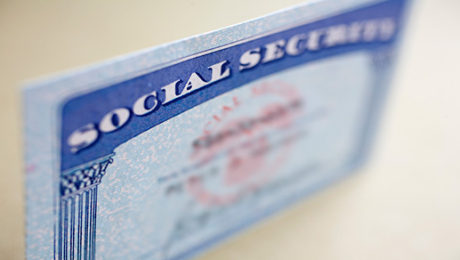 In the past few months, many businesses and employers nationwide have received "no-match" letters from the Social Security Administration (SSA). The purpose of these letters is to alert employers if there's a discrepancy between the agency's files and data reported on W-2 forms, which are given to employees and filed with the IRS. Specifically, they point out that an employee's name and Social Security number (SSN) don't match the government's records.
According to the SSA, the purpose of the letters is to "advise employers that corrections are needed in order for us to properly post" employees' earnings to the correct records. If a person's earnings are missing, the worker may not qualify for all of the Social Security benefits he or she is entitled to, or the benefit received may be incorrect. The no-match letters began going out in the spring of 2019.
Why discrepancies occur
There are a number of reasons why names and SSNs don't match. They include typographical errors when inputting numbers and name changes due to marriage or divorce. And, of course, employees could intentionally give the wrong information to employers, as is sometimes the case with undocumented workers.
Some lawmakers, including Democrats on the U.S. House Ways and Means Committee, have expressed opposition to no-match letters. In a letter to the SSA Commissioner, they wrote that, under "the current immigration enforcement climate," employers might "mistakenly believe that the no-match letter indicates that workers lack immigration status and will fire these workers — even those who can legally work in the United States."
How to proceed
If you receive a no-match letter telling you that an employee's name and SSN don't match IRS records, the SSA gives the following advice:
Check to see if your information matches the name and SSN on the employee's Social Security card. If it doesn't, ask the employee to provide you with the exact information as it is shown on the card.
If the information matches the employee's card, ask your employee to check with the local Social Security office to resolve the issue.
Once resolved, the employee should inform you of any changes.
The SSA notes that the IRS is responsible for any penalties associated with W-2 forms that have incorrect information. If you have questions, contact us or check out these frequently asked questions from the SSA: https://bit.ly/2Yv87M6
© 2019 Covenant CPA