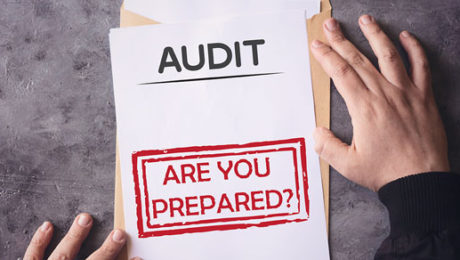 IRS audit rates are historically low, according to the latest data, but that's little consolation if your return is among those selected to be examined. But with proper preparation and planning, you should fare well.
In fiscal year 2019, the IRS audited approximately 0.4% of individuals. Businesses, large corporations and high-income individuals are more likely to be audited but, overall, all types of audits are being conducted less frequently than they were a decade ago.
There's no 100% guarantee that you won't be picked for an audit, because some tax returns are chosen randomly. However, the best way to survive an IRS audit is to prepare for one in advance. On an ongoing basis you should systematically maintain documentation — invoices, bills, cancelled checks, receipts, or other proof — for all items to be reported on your tax returns. Keep all your records in one place. And it helps to know what might catch the attention of the IRS.
Audit hot spots
Certain types of tax-return entries are known to the IRS to involve inaccuracies so they may lead to an audit. Here are a few examples:
Significant inconsistencies between tax returns filed in the past and your most current tax return,
Gross profit margin or expenses markedly different from those of other businesses in your industry, and
Miscalculated or unusually high deductions.
Certain types of deductions may be questioned by the IRS because there are strict recordkeeping requirements for them — for example, auto and travel expense deductions. In addition, an owner-employee salary that's inordinately higher or lower than those in similar companies in his or her location can catch the IRS's eye, especially if the business is structured as a corporation.
Responding to a letter
If you're selected for an audit, you'll be notified by letter. Generally, the IRS doesn't make initial contact by phone. But if there's no response to the letter, the agency may follow up with a call.
Many audits simply request that you mail in documentation to support certain deductions you've taken. Others may ask you to take receipts and other documents to a local IRS office. Only the harshest version, the field audit, requires meeting with one or more IRS auditors. (Note: Ignore unsolicited email messages about an audit. The IRS doesn't contact people in this manner. These are scams.)
Keep in mind that the tax agency won't demand an immediate response to a mailed notice. You'll be informed of the discrepancies in question and given time to prepare. You'll need to collect and organize all relevant income and expense records. If any records are missing, you'll have to reconstruct the information as accurately as possible based on other documentation.
If the IRS chooses you for an audit, our firm can help you:
Understand what the IRS is disputing (it's not always clear),
Gather the specific documents and information needed, and
Respond to the auditor's inquiries in the most expedient and effective manner.
The IRS normally has three years within which to conduct an audit, and often an audit doesn't begin until a year or more after you file a return. Don't panic if you're contacted by the IRS. Many audits are routine. By taking a meticulous, proactive approach to how you track, document and file your company's tax-related information, you'll make an audit much less painful and even decrease the chances that one will happen in the first place.
© 2020 Covenant CPA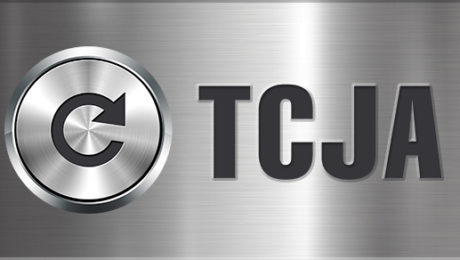 The dawning of 2019 means the 2018 income tax filing season will soon be upon us. After year end, it's generally too late to take action to reduce 2018 taxes. Business owners may, therefore, want to shift their focus to assessing whether they'll likely owe taxes or get a refund when they file their returns this spring, so they can plan accordingly.
With the biggest tax law changes in decades — under the Tax Cuts and Jobs Act (TCJA) — generally going into effect beginning in 2018, most businesses and their owners will be significantly impacted. So, refreshing yourself on the major changes is a good idea.
Taxation of pass-through entities
These changes generally affect owners of S corporations, partnerships and limited liability companies (LLCs) treated as partnerships, as well as sole proprietors:
Drops of individual income tax rates ranging from 0 to 4 percentage points (depending on the bracket) to 10%, 12%, 22%, 24%, 32%, 35% and 37%
A new 20% qualified business income deduction for eligible owners (the Section 199A deduction)
Changes to many other tax breaks for individuals that will impact owners' overall tax liability
Taxation of corporations
These changes generally affect C corporations, personal service corporations (PSCs) and LLCs treated as C corporations:
Replacement of graduated corporate rates ranging from 15% to 35% with a flat corporate rate of 21%
Replacement of the flat PSC rate of 35% with a flat rate of 21%
Repeal of the 20% corporate alternative minimum tax (AMT)
Tax break positives
These changes generally apply to both pass-through entities and corporations:
Doubling of bonus depreciation to 100% and expansion of qualified assets to include used assets
Doubling of the Section 179 expensing limit to $1 million and an increase of the expensing phaseout threshold to $2.5 million
A new tax credit for employer-paid family and medical leave
Tax break negatives
These changes generally also apply to both pass-through entities and corporations:
A new disallowance of deductions for net interest expense in excess of 30% of the business's adjusted taxable income (exceptions apply)
New limits on net operating loss (NOL) deductions
Elimination of the Section 199 deduction (not to be confused with the new Sec.199A deduction), which was for qualified domestic production activities and commonly referred to as the "manufacturers' deduction"
A new rule limiting like-kind exchanges to real property that is not held primarily for sale (generally no more like-kind exchanges for personal property)
New limitations on deductions for certain employee fringe benefits, such as entertainment and, in certain circumstances, meals and transportation
Preparing for 2018 filing
Keep in mind that additional rules and limits apply to the rates and breaks covered here. Also, these are only some of the most significant and widely applicable TCJA changes; you and your business could be affected by other changes as well. Contact us to learn precisely how you might be affected and for help preparing for your 2018 tax return filing — and beginning to plan for 2019, too.
© 2019 Covenant CPA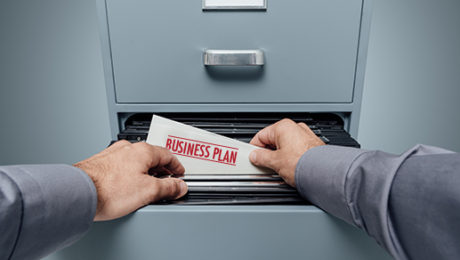 Like many business owners, you probably created a business plan when you launched your company. But, as is also often the case, you may not have looked at it much since then. Now that fall has arrived and year end is coming soon, why not dig it out? Reviewing and revising a business plan can be a great way to plan for the year ahead.
6 sections to scrutinize
Comprehensive business plans traditionally are composed of six sections. When revisiting yours, look for insights in each one:
1. Executive summary. This should read like an "elevator pitch" regarding your company's purpose, its financial position and requirements, its state of competitiveness, and its strategic goals. If your business plan is out of date, the executive summary won't quite jibe with what you do today. Don't worry: You can rewrite it after you revise the other five sections.
2. Business description. A company's key features are described here. These include its name, entity type, number of employees, key assets, core competencies, and product or service menu. Look at whether anything has changed and, if so, what. Maybe your workforce has grown or you've added products or services.
3. Industry and marketing analysis. This section analyzes the state of a company's industry and explicates how the business will market itself. Your industry may have changed since your business plan's original writing. What are the current challenges? Where do opportunities lie? How will you market your company's strengths to take advantage of these opportunities?
4. Management team description. The business plan needs to recognize the company's current leadership. Verify the accuracy of who's identified as an owner and, if necessary, revise the list of management-level employees, providing brief bios of each. As you look over your management team, ask yourself: Are there gaps or weak links? Is one person handling too much?
5. Operational plan. This section explains how a business functions on a day-to-day basis. Scrutinize your operating cycle — that is, the process by which a product or service is delivered to customers and, in turn, how revenue is brought in and expenses are paid. Is it still accurate? The process of revising this description may reveal inefficiencies or redundancies of which you weren't even aware.
6. Financials. The last section serves as a reasonable estimate of how your company intends to manage its finances in the near future. So, you should review and revise it annually. Key projections to generate are forecasts of your profits and losses, as well as your cash flow, in the coming year. Many business plans also include a balance sheet summarizing current assets, liabilities and equity.
Keep it fresh
The precise structure of business plans can vary but, when regularly revisited, they all have one thing in common: a wealth of up-to-date information about the company described. Don't leave this valuable document somewhere to gather dust — keep it fresh. Our firm can help you review your business plan and generate accurate financials that allow you to take on the coming year with confidence. Call us now at 205-345-9898.
© 2018 Covenant CPA