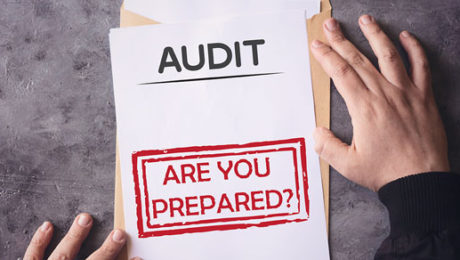 IRS audit rates are historically low, according to the latest data, but that's little consolation if your return is among those selected to be examined. But with proper preparation and planning, you should fare well.
In fiscal year 2019, the IRS audited approximately 0.4% of individuals. Businesses, large corporations and high-income individuals are more likely to be audited but, overall, all types of audits are being conducted less frequently than they were a decade ago.
There's no 100% guarantee that you won't be picked for an audit, because some tax returns are chosen randomly. However, the best way to survive an IRS audit is to prepare for one in advance. On an ongoing basis you should systematically maintain documentation — invoices, bills, cancelled checks, receipts, or other proof — for all items to be reported on your tax returns. Keep all your records in one place. And it helps to know what might catch the attention of the IRS.
Audit hot spots
Certain types of tax-return entries are known to the IRS to involve inaccuracies so they may lead to an audit. Here are a few examples:
Significant inconsistencies between tax returns filed in the past and your most current tax return,
Gross profit margin or expenses markedly different from those of other businesses in your industry, and
Miscalculated or unusually high deductions.
Certain types of deductions may be questioned by the IRS because there are strict recordkeeping requirements for them — for example, auto and travel expense deductions. In addition, an owner-employee salary that's inordinately higher or lower than those in similar companies in his or her location can catch the IRS's eye, especially if the business is structured as a corporation.
Responding to a letter
If you're selected for an audit, you'll be notified by letter. Generally, the IRS doesn't make initial contact by phone. But if there's no response to the letter, the agency may follow up with a call.
Many audits simply request that you mail in documentation to support certain deductions you've taken. Others may ask you to take receipts and other documents to a local IRS office. Only the harshest version, the field audit, requires meeting with one or more IRS auditors. (Note: Ignore unsolicited email messages about an audit. The IRS doesn't contact people in this manner. These are scams.)
Keep in mind that the tax agency won't demand an immediate response to a mailed notice. You'll be informed of the discrepancies in question and given time to prepare. You'll need to collect and organize all relevant income and expense records. If any records are missing, you'll have to reconstruct the information as accurately as possible based on other documentation.
If the IRS chooses you for an audit, our firm can help you:
Understand what the IRS is disputing (it's not always clear),
Gather the specific documents and information needed, and
Respond to the auditor's inquiries in the most expedient and effective manner.
The IRS normally has three years within which to conduct an audit, and often an audit doesn't begin until a year or more after you file a return. Don't panic if you're contacted by the IRS. Many audits are routine. By taking a meticulous, proactive approach to how you track, document and file your company's tax-related information, you'll make an audit much less painful and even decrease the chances that one will happen in the first place.
© 2020 Covenant CPA
Saturday, 20 October 2018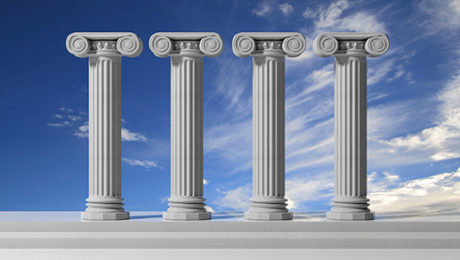 Is your sales process getting off-balance? Sometimes it can be hard to tell. Fluctuations in the economy, changes in customer interest and dips in demand may cause slowdowns that are beyond your control. But if the numbers keep dropping and you're not sure why, you may need to double-check the structural soundness of how you sell your company's products or services. Here are four pillars of a solid sales process:
1. Synergy with marketing. The sales staff can't go it alone. Your marketing department has a responsibility to provide some assistance and direction in generating leads. You may have a long-standing profile of the ideal candidates for your products or services, but is it outdated? Could it use some tweaks? Creating a broader universe of customers who are likely to benefit from your offerings will add focus and opportunity to your salespeople's efforts.
2. Active responsiveness. A sense of urgency is crucial to the sales process. Whether a prospect responded to some form of advertisement or is being targeted for cold calling, making timely and appropriate contact will ease the way for the salesperson to get through to the decision maker. If selling your product or service requires a face-to-face presence, making and keeping of appointments is critical. Gather data on how quickly your salespeople are following up on leads and make improvements as necessary.
3. Clear documentation. There will always be some degree of recordkeeping associated with sales. Your salespeople will interact with many potential customers and must keep track of what was said or promised at each part of the sales cycle. Fortunately, today's technology (typically in the form of a customer relationship system) can help streamline this activity. Make sure yours is up to date and properly used. Effective performers spend most of their time calling or meeting with customers. They carry out the administrative parts of their jobs either early or late in the day and don't use paperwork as an excuse to avoid actively selling.
4. Consistency. A process is defined as a series of related steps that lead to a specific end. Lagging sales are often the result of deficiencies in steps of the sales process. If your business is struggling to maintain or increase its numbers, it may be time to audit your sales process to identify irregularities. You might also hold a sales staff retreat to get everyone back on the same page. Contact us at 205-345-9898 to discuss these and other ideas on reinforcing your sales process.
© 2018 Covenant CPA