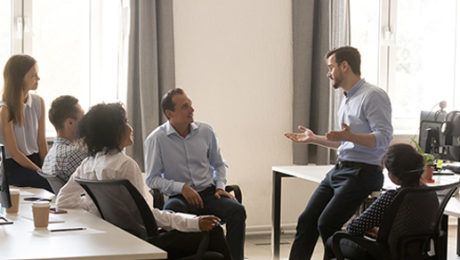 Among the fastest ways for a business to fail is because of mismanagement or malfeasance by ownership. On the other hand, among the slowest ways is an ineffective or dysfunctional sales department.
Companies suffering from this malady may maintain just enough sales to stay afloat for a while, but eventually they go under because they lose one big customer or a tough new competitor arrives on the scene. To ensure your sales department is contributing to business growth, not just survival, you've got to ask some tough questions. Here are four to consider:
1. Does our sales department communicate customers' needs to the rest of the company? Your sales staff works on the front lines of your industry. They're typically the first ones to hear of changes in customers' needs and desires. Make sure your sales people are sharing this information in both meetings and written communications (sales reports, emails and the like).
It's particularly important for them to share insights with the marketing department. But everyone in your business should be laser-focused on what customers really want.
2. Does the sales department handle customer complaints promptly and satisfactorily? This is related to our first point but critical enough to investigate on its own. Unhappy customers can destroy a business — especially these days, when everyone shares everything on social media.
Your sales staff should have a specific protocol for immediately responding to a customer complaint, gathering as much information as possible and offering a fair resolution. Track complaints carefully and in detail, looking for trends that may indicate deeper problems with your products or services.
3. Do our salespeople create difficulties for employees in other departments? If a sales department is getting the job done, many business owners look the other way when sales staff play by their own rules or don't treat their co-workers with the utmost professionalism. Confronting a problem like this isn't easy; you may unearth some tricky issues involving personalities and philosophies.
Nonetheless, your salespeople should interact positively and productively with other departments. For example, do they correctly and timely complete all necessary sales documents? If not, they could be causing major headaches for other departments.
4. Are we taking our sales staff for granted? Salespeople tend to spend much of their time "outside" a company — either literally out on the road making sales calls or on the phone communicating with customers. As such, they may work "out of sight and out of mind."
Keep a close eye on your sales staff, both so you can congratulate them on jobs well done and fix any problems that may arise. Our firm can help you analyze your sales numbers to help identify ways this department can provide greater value to the company.
© 2019 Covenant CPA
"Gamification." It's perhaps an odd word, but it's a cool concept that's become popular among many types of businesses. In its most general sense, the term refers to integrating characteristics of game-playing into business-related tasks to excite and engage the people involved.
Might it have a place in your company?
Internal focus
Sometimes gamification refers to customer interactions. For example, a retailer might award customers points for purchases that they can collect and use toward discounts. Or a company might offer product-related games or contests on its website to generate traffic and visitor engagement.
But, these days, many businesses are also using gamification internally. That is, they're using it to:
Engage employees in training processes,
Promote friendly competition and camaraderie among employees, and
Ease the recognition and measurement of progress toward shared goals.
It's not hard to see how creating positive experiences in these areas might improve the morale and productivity of any workplace. As a training tool, games can help employees learn more quickly and easily. Moreover, with the rise of social media, many workers are comfortable sharing with others in a competitive setting. And, from the employer's perspective, gamification opens all kinds of data-gathering possibilities to track training initiatives and measure employee performance.
Specific applications
In most businesses, employee training is a big opportunity to reap the benefits of gamification. As many industries look to attract Generation Z — the next big demographic to enter the workforce — game-based learning makes perfect sense for individuals who grew up both competing in various electronic ways on their mobile devices and interacting on social media.
For example, safety and sensitivity training are areas that demand constant reinforcement. But it's also common for workers to tune out these topics. Framing reminders, updates and exercises within game scenarios, in which participants might win or lose ground by following proper or improper work practices, is one way to liven up the process.
Game-style simulations can also help prepare employees for management or leadership roles. Online training simulations, set up as games, can test participants' decision-making and problem-solving skills — and allow them to see the potential consequences of various actions before granting them such responsibilities in the real-word situations. You might also consider rewards-based games for managers or project leaders based on meeting schedules, staying within budgets, or preventing accidents or other costly mistakes.
Intended effects
Naturally, gamification has its risks. You don't want to "force fun" or frustrate employees with unreasonably difficult games. Doing so could lower morale, waste time and money, and undercut training effectiveness.
To mitigate the downsides, involve management and employees in gamification initiatives to ensure you're on the right track. Also consider involving a professional consultant to implement established and tested "gamified" exercises, tasks and contests. We can help you identify and assess the potential costs involved and keep those costs in line. Contact us at 205-345-9898 and info@covenantcpa.com for assistance.
© 2019 CovenantCPA